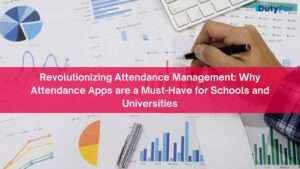 In today's fast-paced world, technology has revolutionized every aspect of our lives, and education is no exception. The traditional paper-based attendance system has become outdated and inefficient, causing headaches for teachers, administrators, and students alike. However, with the advent ofattendance appsfor schools, student attendance app, and attendance management systems for colleges, tracking attendance has become more accessible, accurate, and efficient. Here's why you should consider adopting an attendance app for your school or university.
1. Streamline Attendance Management Manual attendance management is time-consuming, laborious, and prone to errors. Teachers often spend a significant amount of time taking attendance, which could be better utilized for teaching and engaging with students. With attendance apps, you can automate the entire attendance process. The app will allow you to mark attendance digitally, saving time and reducing the risk of errors. Moreover, you can access real-time attendance reports, making it easier to identify attendance patterns and take timely actions.
2. Enhance Student Accountability Attendance apps empower students to take ownership of their attendance. With studentattendance apps, students can mark their attendance digitally, reducing the scope for errors. Moreover, students can access their attendance reports and keep track of their attendance progress. This feature promotes a culture of accountability and motivates students to attend classes regularly.
3. Increase Parental Involvement Parents play a crucial role in ensuring that their children attend school regularly. Attendance apps allow parents to stay informed about their child's attendance. They can access real-time attendance reports and receive notifications when their child is absent from class. This feature enables parents to take timely action and support their child's education.
4. Improve Campus Security Attendance apps can improve campus security by keeping track of who is on campus at any given time. This feature is especially crucial in today's world, where safety is a top priority. Attendance management systems for colleges can also integrate with other campus security systems, such as access control and surveillance systems, providing an added layer of security.
DutyPar – A Reliable Attendance App If you're looking for a reliable attendance app, DutyPar is an excellent option. DutyPar is an attendance app for schools and colleges that offers a wide range of features to streamline attendance management. With DutyPar, you can mark attendance digitally, access real-time attendance reports, and automate attendance-related communication. Duty Par also offers a student attendance app, enabling students to mark their attendance digitally and keep track of their attendance progress. Duty Par is easy to use and has a user-friendly interface, making it an ideal choice for schools and universities.
Attendance appsare a must-have for schools and universities in today's world. By adopting an attendance app, you can streamline attendance management, enhance student accountability, increase parental involvement, and improve campus security. Duty Par is an excellent attendance app for schools and colleges, offering a wide range of features to simplify attendance management