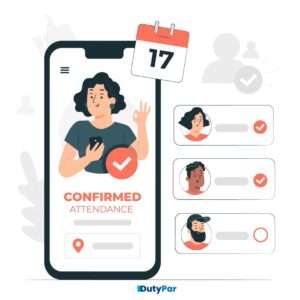 1.Introduction:Online attendance systems are a tool used to measure employee punctuality and workplace engagement. The primary benefit of using an online attendance application is that it helps to automate the process of tracking and managingemployee attendance.This can save businesses a significant amount of time and money, as well as improve accuracy and efficiency & allows managers to focus on other aspects of running the business. There are many benefits to implementing an attendance tracking system, including:
Decreased payroll costs
Improved employee productivity
Reduced absenteeism
Improved employee morale
There are two main classes in biometrics: Physiological – It is associated with the body shape, includes all physical traits, iris, palm print, facial features, Fingerprints, etc. Behavioral – Related to the behavioral characteristics of a person. A characteristic widely used till today is signatures. Modern methods of behavioral studies are emerging such as keystroke dynamics and voice analysis.
An online attendance system typically uses biometric devices, such as fingerprint scanners, facial recognition to trackemployee attendance. The data collected by the devices is then stored in a cloud-based system, which can be accessed by managers and HR professionals.
Improved accuracy: Online attendance systems are more accurate than traditional paper-based systems.
Reduced costs: Online attendance systems can save your company money by reducing payroll costs.
Improved employee productivity: Employee productivity can be improved by tracking attendance and absences.
Reduced absenteeism: Online attendance systems can help reduce absenteeism by keeping track of employee attendance.
Improved employee morale: Employee morale can be improved by tracking attendance and absences.
Other benefits include:
Online attendance applications can help businesses to accurately track employee attendance and ensure that employees are adhering to company policies. Provides a more accurate representation of employee attendance. This identifies each employee individually and gives employers more justice if they have to deal with tardiness, over time or employee dispute. These applications can also help businesses to manage employee leave and vacation days
Online attendance applications can also provide businesses with valuable insights into employee productivity and trends.
Online attendance applications can help to improve communication between managers and employees by providing a central location for all attendance-related information & helps to identify and correct attendance issues early on. Unreliable attendance, whether late or missed starts, can be costly—on time is foundational to the ability to perform your job, can notify you and your team directly of attendance issues, allowing you to get corrective action quickly, this aids in keeping workers on task.
4 Finally, it reduces the amount of paper waste
How Online attendance helping HR:
Online attendance diminishes manual effort of time keeping and reports employee time & attendance at a very quick pace
Enabling employees to access their own information online and reduces their dependency on the HR thereby reduce confusion regarding attendance and payroll
HR gets accurate information to process salary with flexi shift, cumulative work hours, on duty, limited overtime approvals, roster & various shift pattern.
As Online attendance can be centralized, it makes easier for managers to track clock-in & clock-outs of their department employee and see to how much time off they have accrued or used
Online attendance can streamline HRattendance trackingwith realistic view of productivity levels to show advancements in employee timeliness & also revealing payroll savings.